Mutton/beef/chicken pulav😊(rice cook with mutton stock).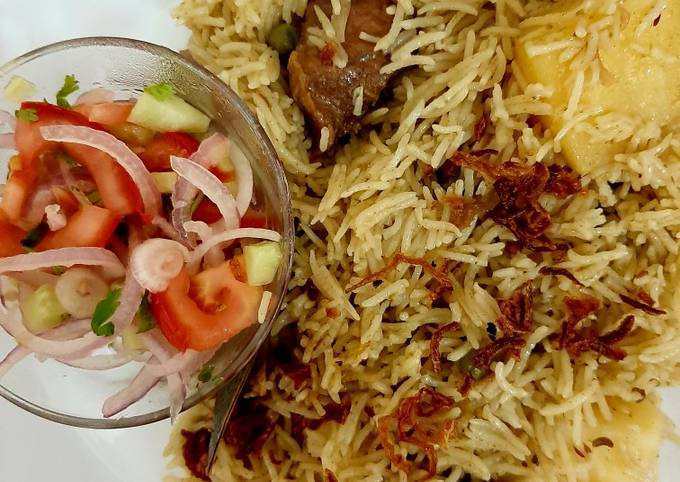 You can cook Mutton/beef/chicken pulav😊(rice cook with mutton stock) using 15 ingredients and 8 steps. Here is how you cook it.
Ingredients of Mutton/beef/chicken pulav😊(rice cook with mutton stock)
Prepare of mutton(beef or chicken 1kg).
Prepare of Stock (1 small onion, 5 pepper, 5 cloves,1 cinnamon stick.
It's of cardamom, 3 bay leaf,4 green chillies, 2 tbsn salt,.
You need of ginger and 5 cloves garlic Chopped,1 cup whole coriander.
It's of Seeds,1/2cup fennel seeds,1tsp cumin seeds &4 cups water).
You need of Rice 3 1/2 cups rice washed and soaked.(10 mins).
Prepare of For masala (1 bunch coriander leaves,1 pod garlic, 1 inch ginger.
You need of green chillies (acc to u),.
It's of cumin) grind and keep.
Prepare of oil,1 small onion, 5cloves,5 cardamom, 6 to 8 pepper, 2.
It's of Bay leaf, 1 tsp cumin seeds and 1 piece cinnamon.
Prepare of big potatoes, 1 cup peas.
Prepare of Salad(1 onion, 1 tomato, 1 cucumber, 1 tsp salt,few coriander.
You need of Leaves,1 chilli and 2 lemon juice).
Prepare of Fried onions for garnish (optional).
Mutton/beef/chicken pulav😊(rice cook with mutton stock) instructions
First prepare stock.wash the mutton, cut ginger,garlic, chilli,add pepper, clove,cardamom,bay leaf,cinnamon, cumin seeds. Wash coriander seeds and cumin seeds in strainer. Cut onion roughly..
Now put all together. (See Ingredients above for stock) with salt.when mutton cooked remove and save the stock.
Ur stock is ready.now grind the masala coriander leaves, ginger, garlic, chillies and cumin. See ingredients. Now take 1 slice onion, 5 cloves, 5 cardamom,1 tsp cumin seeds, 2 bay leaf,1 cinnamon and 6to7 pepper..
Now heat one cup of oil in a large vessel. Then add onion with garam masala (above pic 3)when brown add the above grind masala.now let it simmer 5 mins oil floats up.now add potatoes and peas..
Mix well.cover vessel and cook till 5 mins.now add the cooked mutton and strained stock. Mix well then rice..
After u put stock let it boil.now cover the vessel with it's lid and cook on medium flame.(check salt now add 1 tbsn)when rice absorbs most of the stock give a mix(pic3).
Cover the lid,put a cloth over the lid.so that steam and moisture stays within.keep on a slow flame.(10 mins)off the flame but don't open the lid.prepare the salad cut onion,tomato, chilli,coriander leaves then place all in one bowl then add 2 lemon juice and 1 tsp salt..
Salad ready.now serve mutton pulav.garnish with fried onions.ur kitchen will smell with all the lovely flavours. Enjoy😊.
Recipe: Tasty Mutton/beef/chicken pulav😊(rice cook with mutton stock)