Nastar cookies (Indonesian pineapple tarts).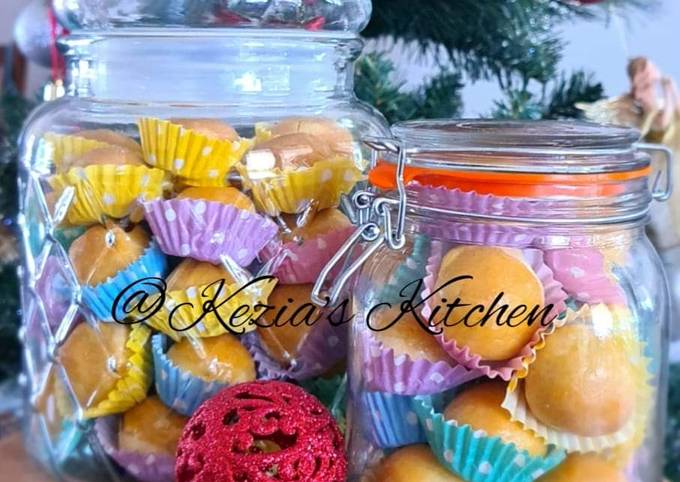 You can have Nastar cookies (Indonesian pineapple tarts) using 18 ingredients and 6 steps. Here is how you cook it.
Ingredients of Nastar cookies (Indonesian pineapple tarts)
Prepare of Pineapple jam:.
It's of large pineapple or 2 pineapples.
Prepare of caster sugar.
Prepare of salt.
Prepare of cloves.
You need of cinnamon.
It's of Egg wash:.
It's of eggs yolks.
It's of condense milk.
You need of honey.
Prepare of For the cookies:.
You need of unsalted butter.
It's of margarine.
Prepare of allall-purpose flour.
You need of icing mixture (fine granulated sugar).
Prepare of cornstarch.
Prepare of milk powder (full cream).
It's of eggs yolks.
Nastar cookies (Indonesian pineapple tarts) instructions
For the jam : Peeled the pineapples and rub with some salt and then wash with clean water. Slice and blend with the blender until you get a smooth mixture Mix all ingredients and put them in a saucepan and let it simmer with low heat for few hours.  Stir it occasionally until you get dry and thick mixture.  Shape into small balls and place on baking paper-lined tray.  Cover with plastic wrap and freeze until needed..
For the eggs wash: Mix together all ingredients in a small bow.  Make sure the honey is dissolved well and the mixture is no longer lumpy..
For the cookies doug : Mix butter, sugar, and egg yolks until soft and light. Add the dry ingredients (both flours and milk powder) and mix until  fully incorporated. If the mixture too wet, add some flour..
Cover the dough and refrigerate for about 30 minutes until firm. Preheat oven to 300 degrees F (150 degrees C). Line several cookie sheets with parchment..
Roll the dough into 1-inch balls. Make a depression in the center of each ball and fill with pineapple jam filling.  Pinch the edges of the dough back around the filling, and turn seam side down. Place on baking trays  about 2 inches apart..
Bake for 15 minutes, take it out. Brush the tops of each cookie with egg wash and bake for another 15 minutes until shiny and golden.  Cool on wire racks..