Mom's Chicken Casserole.💟 😍🤹‍♀️🐤🐥.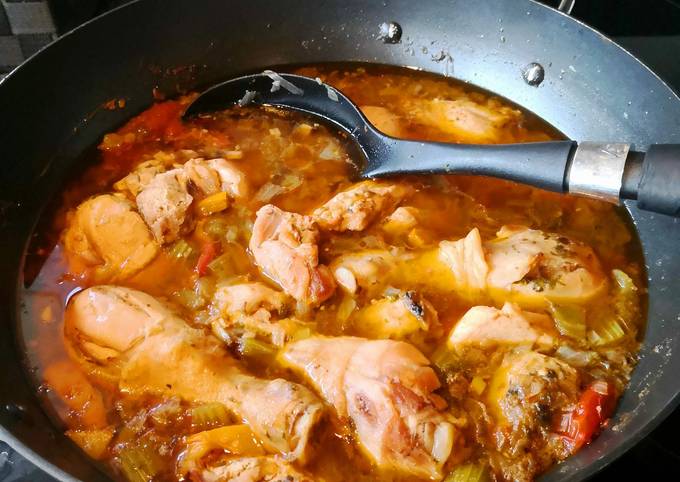 You can have Mom's Chicken Casserole.💟 😍🤹‍♀️🐤🐥 using 28 ingredients and 3 steps. Here is how you cook that.
Ingredients of Mom's Chicken Casserole.💟 😍🤹‍♀️🐤🐥
You need 1 kg of chicken drum legs.
Prepare 1 tsp of sea salt.
Prepare 1/2 of tsb ground Black Pepper.
It's 1/4 cup of all-purpose flour to thicken.
You need 1 of big Onion, chopped finely.
Prepare 2 of garlic minced.
You need 4 cm of fresh ginger, slice thinly.
You need 2 of celery stalks, diced.
Prepare 1 of carrots, cut into cubed.
You need 2 cups of water and 3 chicken stock cubes.
Prepare 1/2 tsp of cardamom powder.
It's 1 tsp of ground 5 star-anise.
It's 1 cup of tomato sauce.
It's 3 tbs of ABC Sweet Soy Sauce.
You need 1/2 tbs of dried red chili flakes.
You need of Steam Jasmine rice cook in Rice Cooker.
You need of For side dish: Pickled of Homemade Indonesian Mixed Veges.
Prepare of To make a pickled with Mixed veges:.
You need of Telegraph Cucumber, deseeded, cut skin on into small cubed.
It's of shallots.
Prepare of carrots, peeled and cut into small cubed.
It's of red radish with the skin on cut thickly, or.
Prepare of peeled white radish, sliced thickly.
You need 1/3 cup of sugar,.
It's 1/3 cup of + 1 tbs white Vinegar.
It's 2 of tps salt.
It's 3/4 cup of from the kettle.
You need of Drink of your choice.
Mom's Chicken Casserole.💟 😍🤹‍♀️🐤🐥 step by step
Heat up 1 cup oil, add onions, fry a few minutes until slightly change colour then add ginger, garlic, then the 5-spice powder and cardamom stir fry for a few seconds then add the chicken legs and mix and stir-fry until slightly brown in both sides..
Then add the 2 cups chicken stock, tomato sauce, soy sauce, red chili flakes, salt, blackpepper, carrots, celery and flour. Turn the heat to low, put the lid and simmer for 20 minutes, stir on every 5 minutes, keep the lid on. Our family loves the gravy juice. Add more water if necessary. Taste the season. If the legs are tender then turn off the heat. Transfer on a deep serving dish. To serve on a steamed rice bed and eith the side dish, a pickled vege 🥒🍅🌶🍋.
PICKLED VEGES (could be done one day before): in a pot on the stove, put all the ingredients and stir until salt & sugar are dissolved. Remove. In a small glass bowl put all the Vege, then pour over the warm vinegar mixture, stir and let it cool. Then put the glass bowl in the fridge for 2 hours before serving. (Refrigerated up to 2 weeks)..