Weekend Fish Pie (GF & DF) 🐟.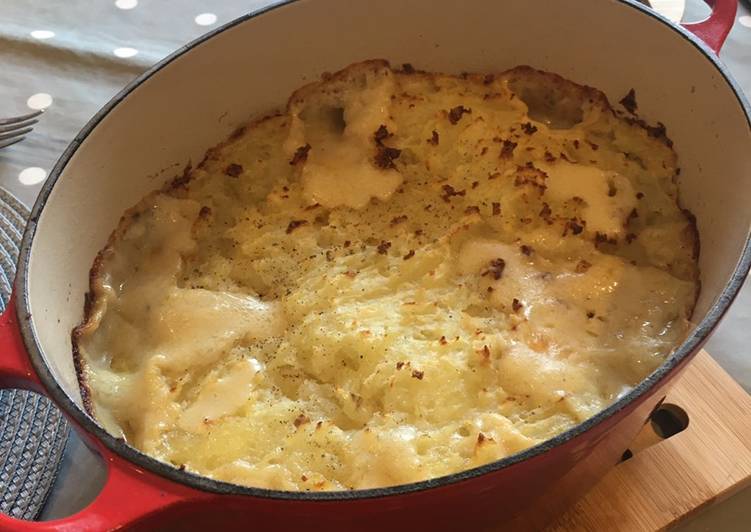 You can have Weekend Fish Pie (GF & DF) 🐟 using 9 ingredients and 10 steps. Here is how you achieve that.
Ingredients of Weekend Fish Pie (GF & DF) 🐟
Prepare of salmon fillets, skinless.
You need of cod fillets, skinless.
Prepare of almond milk (or use regular milk).
You need of onion.
You need of bacon lardons.
Prepare of Olive oil.
You need of gluten free plain flour (or use regular flour).
Prepare of Stork marg (or use butter).
It's of baking potatoes, peeled and chunked.
Weekend Fish Pie (GF & DF) 🐟 instructions
Put the potatoes into boiling water to cook while you prepare the filling..
Place the fish fillets in a large heavy based saucepan, or deep frying pan. Now pour the almond milk over the fish and gently heat. Don't allow the milk to boil, but we want it hot enough to gently start poaching the fish. After 5 mins turn the fillets over and cook for another few minutes.
Remove the fish gently with a pan slotted spoon and set the fish to one side in a bowl. Pour the remaining milk into a jug through a sieve. Keep the milk but discard any bits caught in the mesh (an important step to catch any stray fish bones and scales)..
Put your onion and bacon in a small frying pan and cook gently on a hob while you make your white sauce. Don't allow the onions to brown, we are looking for gentle and translucent..
Rinse out your fish poaching pan and put it back on the hob. Add your stork marg and allow to melt over a medium heat. Add one tbsp of flour and stir it in. Then add enough of the next tbsp to make a thick paste as shown..
Carefully add your milk to the (paste) roux and mix it in thoroughly, bit by bit. Slowly helps to prevent lumps. Once all the milk has been whisked in, bring the sauce up to a boil, stirring constantly until it thickens. Add salt and white pepper here to season (don't over do the salt as we're adding bacon too)..
Now use your fingers to flake the fish into the sauce – this helps you to feel if there are any remaining bones in the fillet and is really important especially if feeding little ones..
Next add the onions and bacon to the fish and stir it all gently. Your filling is ready..
Spoon the fish filling into a baking dish. Then mash your potatoes with a good glug of olive oil and top the pie with it. Use a fork to spread the mash. Season with salt and pepper then bake for 30 mins..
.