Weekend Roast Turkey (no fuss).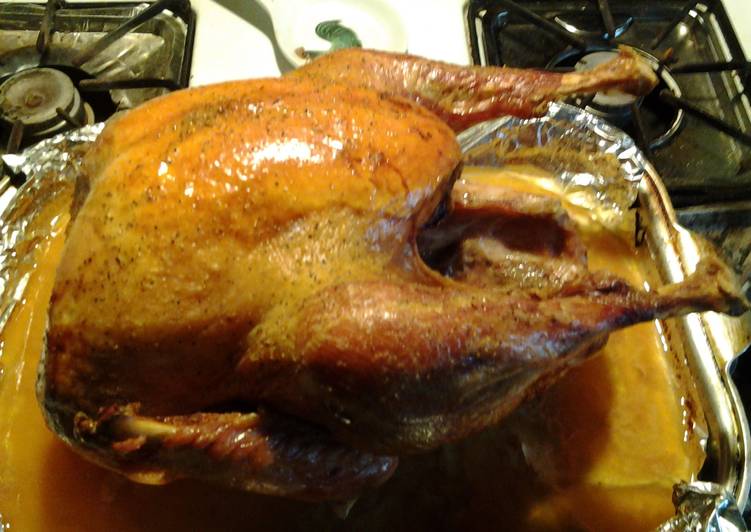 You can have Weekend Roast Turkey (no fuss) using 2 ingredients and 9 steps. Here is how you cook it.
Ingredients of Weekend Roast Turkey (no fuss)
Prepare of 12 lb. defrosted Turkey.
It's of Gravy (optional).
Weekend Roast Turkey (no fuss) instructions
Preheat oven 325°.
Wash turkey well, pat dry. Cut off wing tips and place in large greased shallow baking pan. Spray whole top of turkey with Cooking Spray. Sprinkle with salt & pepper..
Place in oven. Let cook without opening oven for 1 hr..
After 1 hr. open oven and cover bird loosely with foil. No need to baste..
Continue roasting turkey 3 more hrs. No basting..
Remove from oven, let stand 45 minutes..
Remove turkey to large plate..
Meanwhile make gravy with drippings. Pour drippings into large measure. Let fat rise to top. Squeegee out brown juice into saucepan. Discard fat. Make a slurry with cornstarch and water. Boil juice then add slurry to desired consistency. Boil 2 more mins..
Now you will have leftover turkey for the week's lunches, or easy dinners..